Tips to Prevent Cavities
Invisalign's® invisible, removable, and comfortable aligners will give you the beautiful straight teeth you've always wanted. And best of all, no one can tell you're wearing them. Invisalign® is great for adults and teenagers.
What is Invisalign®?
Invisalign® is the invisible way to straighten your teeth without braces.
Invisalign® uses a series of clear, removable aligners to straighten your teeth without metal wires or brackets.
Invisalign® has been proven effective in clinical research and in orthodontic practices nationwide.
How Does Invisalign® Work?
You wear each set of aligners for about 2 weeks, removing them only to eat, drink, brush, and floss.
As you replace each aligner with the next in the series, your teeth will move little by little, week by week - until they have straightened to the their final position.
You'll visit us about once every 6 weeks to ensure that your treatment is progressing as planned.
Total treatment time averages 9 - 15 months and the average number of aligners during treatment is between 18 - 30, but both will vary from case to case.
How Are Aligners Made? You'd Be Amazed...
The aligners are made through a combination of our expertise and 3-D computer imaging technology.
Here are some before and after pictures that we have provided to help you see what invisalign could do for your smile:
Before Invisalign Crowding:
After Invisalign crowding:
Before Invisalign Crowding:
After Invisalign Crowding:
Before Invisalign Open Bite:
After Invisalign Open Bite:
Before Invisalign smile:
After Invisalign smile:
Cavities are little holes in teeth that can eventually cause big problems. They form when tooth-eroding acid attacks a tooth's protective outer covering (enamel). This acid mainly comes from two sources: your diet, and certain oral bacteria that thrive in the absence of effective oral hygiene. If cavities are not treated promptly, decay-causing bacteria can get further into the tooth, leading eventually to root-canal problems and even tooth loss. The good news is that cavities are completely preventable — meaning it is truly possible to keep all of your natural teeth for life! Here are our top three tips to keep decay away:
Brush & Floss Every Day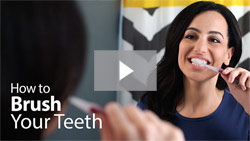 Cavity prevention starts with a good oral hygiene routine. This will remove dental plaque — a sticky film that harbors food particles and harmful bacteria. Flossing is particularly important because a toothbrush can't reach in between the teeth the way floss can. Make sure to floss both sides of every tooth, including the back molars, at least once each day. Brush your teeth at least twice each day, using a toothpaste that contains fluoride — a mineral that can become part of your tooth enamel and actually repair tiny cavities that are starting to form.
Pay Attention to Your Diet
Certain foods and beverages are no friends to your teeth, and soda tops the list. Soda, sports drinks, and so-called "energy drinks" are all acidic — even the sugar-free varieties. The acids they contain attack tooth enamel and make your teeth more prone to decay. Fruit juices can also be very acidic. Drinking water is much better for your dental health, not only because it has a completely neutral pH (is non-acidic), but also because it helps replenish your saliva — which has natural cavity-fighting properties. Sugary and starchy foods (cookies, candy, donuts, and chips) are also a problem — especially when they are not promptly cleaned from your mouth. They nourish the oral bacteria that cause cavities and raise the acidity level in your mouth.
See Your Dentist Regularly
Routine professional cleanings and exams are a great way to maintain excellent oral health. Your dental hygienist can clean areas of your mouth that you can't reach with your toothbrush or even with floss. We can check for early signs of tooth decay and take prompt action. What's more, we can recommend specific preventive treatments if you are particularly prone to cavities. These include in-office fluoride treatments and dental sealants, both of which are quick, easy and effective procedures. Special mouthrinses might also be recommended. Working together, we can make sure your oral hygiene routine is all it should be and that decay is kept at bay.
Related Articles